COBOT - ICMR Upload Automation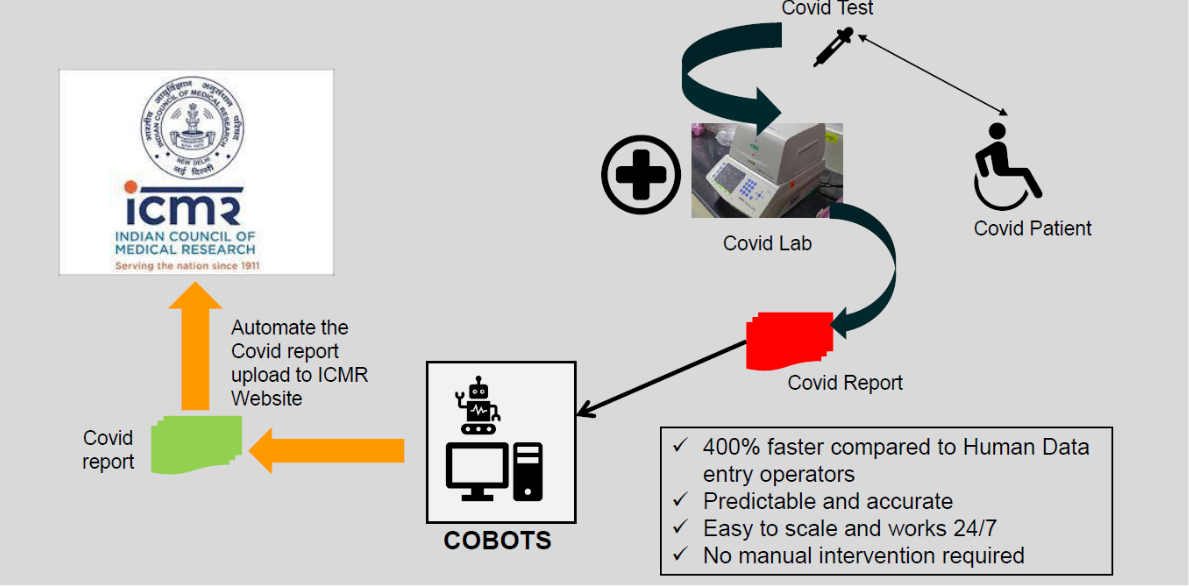 RPASoft has launched COBOT – Our Healthcare Automation solution designed for Covid Testing labs to upload their Test Report automatically to ICMR Website. The solution offers higher throughput, better accuracy and predictable Automation process to handle large volume of the Test reports. The solution mimics the Data entry operator wherein the Test Report data is validated first against the mandatory fields before uploading to ICMR. All variation during the upload like fresh cases and follow-up cases are nicely handled as part of the Automation process. Any errors are captured and sent to stakeholders for fixing the errors and fed back to COBOTS for upload. The solution provides the daily report of how many fresh cases and follow-up cases uploaded along with numbers of errors during the upload. The solution eliminates the human data entry operator in the Lab due to greater extent both in day and night shifts.
The solution can also be extended with email and SMS to communicate to the respective patients, primary healthcare centers and other stakeholders. Automated generation of Test reports with QR code is also possible based on the requirements.
Please review our article published on linkedin as well:
Click Here